Choosing an engagement ring can be a daunting and emotionally charged task. Whether you're shopping together or going it alone, the perfect symbol of your love is out there.
It requires patience, research, and maybe even a few tears along the way to find that special piece of jewelry that will represent your relationship for years to come. With so many options available, from classic yellow gold solitaire diamond rings to modern and unique settings, picking an engagement ring should be a joyous experience full of discovery and anticipation.
From discovering what style speaks to you both as a couple to learning more about diamonds – this journey is full of potential surprises that reflect your shared values as well as personal tastes.
Researching Options: Choosing Your Ideal Engagement Ring
Choosing the perfect engagement ring is an emotional journey that requires careful consideration. From researching your options and selecting a style, to understanding diamond quality and budgeting for the purchase – there are many decisions to be made. Knowing what you want can help make the process easier, but it's important to remember that whatever you choose should reflect both of your tastes and personalities.
To get started on this exciting venture, here are some helpful tips for finding your ideal engagement ring: Start by browsing online catalogues or visiting jewellery stores in person. This will help give you an idea of different styles of rings available, such as solitaire diamonds or cluster designs with multiple gemstones.
Once you have narrowed down some potential choices based on design preferences, look into stone shapes like round brilliants, princess cuts or emeralds; then decide if a gold or platinum band would best suit those diamonds. Don't forget about four Cs – carat weight (how big), clarity (the absence of blemishes), colour (the hue) and cut (the shape). All these elements need to be taken into account when making your decision so that you end up with a beautiful piece of jewellery! When shopping for an engagement ring, always keep in mind the emotions behind it – from how much love it symbolises through its intricate details to the moment when one partner proposes marriage with their chosen piece.
With all this in mind take time out during research sessions to think about how special this item needs to be because it will become part of both partners lives forever!
Narrowing Down the Search: Deciding on a Style and Setting
Choosing an engagement ring can be an incredibly emotional experience, and narrowing down the search to find the perfect one is a journey in itself. When it comes to deciding on a style and setting for your engagement ring, there are countless options available.
From classic solitaires to vintage-inspired designs, each setting brings something unique to the table. With so many choices available, it may help to consider which features are most important when selecting your ring; do you prefer gold or silver? Is having diamonds essential? Or would you like some other type of gemstone? Another factor that could influence your selection is whether you want a traditional style or something more modern; these decisions will greatly impact the look of your dream ring.
Ultimately, finding the right combination of style and setting for your rings depends on personal preference and tastes; but with careful consideration of what matters most – plus some research into different types of settings – choosing that perfect piece can be much easier!
Shopping Around for Prices and Quality
Shopping for an engagement ring can be a daunting task. With so many options, it can be hard to determine which one is the perfect fit.
When selecting an engagement ring, price and quality are two of the most important factors to consider. Its important to understand that while budget-minded shoppers may find a bargain on an inferior product, those who splurge will not necessarily receive superior quality or craftsmanship.
Therefore, when shopping around for prices and quality, it's essential to compare different retailers and manufacturers before making a decision. Find out what cuts offer more sparkle or fire at certain price points; research into specialty trends such as rose gold designs; read reviews from customers who have bought similar rings; ask friends about their experiences with reputable jewelers—all these steps come together in creating the perfect purchase experience that wont leave you feeling shortchanged!
Conclusion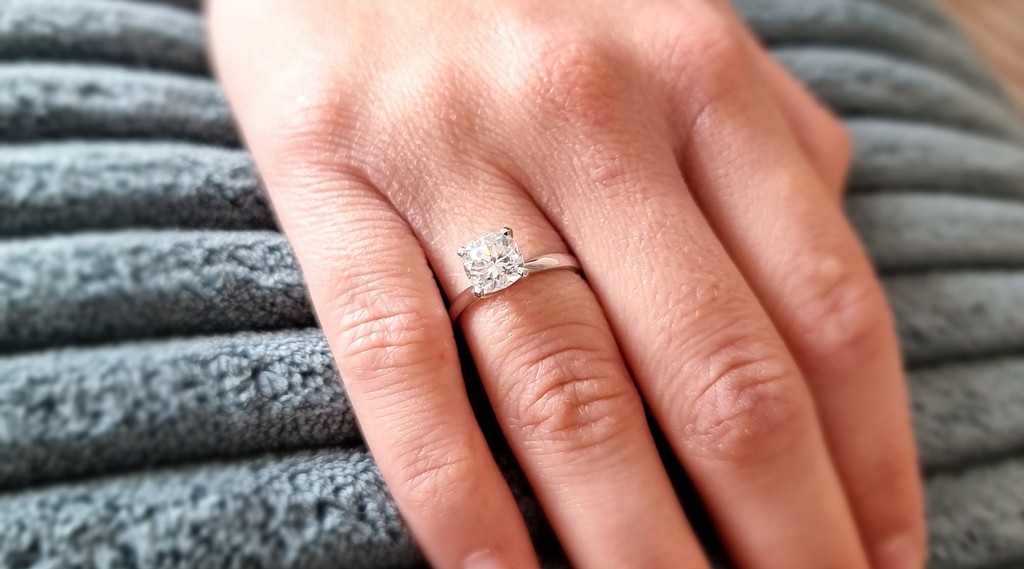 Choosing an engagement ring is a big decision and can be quite emotional. It is important to take your time, consider all of the options available, and decide on one that really expresses your love for each other.
Ultimately, no matter what type of engagement ring you choose – whether its a diamond solitaire or something more unique – the most important thing is that it reflects how much you truly care about the person youre asking to spend forever with you. An engagement ring will always serve as a reminder of this special moment in life when two hearts become one, so make sure the journey of picking out an engagement ring leads to finding one that symbolizes your everlasting love!